I'm participating in The Wardrobe Refashion Challenge once again.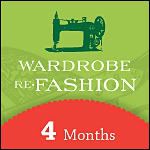 It's somewhat addicting as it allows me to combine 2 things I love: sewing and thrifting. So here's the first project from my current pledge period...
It was a weekend night in August or September when a friend and I came across a 5-patterns-for-5-dollars deal at Joann's (dinner and a fabric store, we live life on the edge as you can tell). I must have been out of my mind when I challenged my friend to make something from each of the 5 patterns we picked out with a deadline of tax day. (She actually sews from patterns whereas I rarely do, so this was a really kookie suggestion on my part). Seeing as that deadline is a few months away, I thought I should probably make the first effort at my part of that deal.
The "fabric" is a thrifted purple ladies polo shirt (IZOD in the 50-cent bin, hooray!) and the pattern is Simplicity 2570.
The necessary "before" shot...
It needed ironed, but why make the "before" look any better? Successful refashioning is about contrast. Here's a close-up of the fabric to give the original a bit more merit!
I also used some scraps from a ragged old grey undershirt that I acquired, since there wasn't enough fabric in the original shirt for the neck and arm-hole facings.
And the after...
I think it's pretty darn cute. Since I was limited by the size of the original shirt, I had to reduce the fullness of the middle front panel to about half of the pattern, but this might not be a bad thing because too much fullness can look a bit maternity. There are darts in the back which gives a nice shape, and I omitted the zipper since this is a knit. As I am prone to do with my refashions, I preserved the hem from the original shirt... I'm not sure if this makes me part genius or just generally lazy :)
Want to see what the other Wardrobe Refashion participants are up to?
Click HERE.